Moins de distance entre nous. Rien que ma peau & ta peau. Moins d'oxygène autour de nous. Rien que mon souffle & ton souffle. Moins de monde pour nous. Rien que moi & toi, Corps & Ames unis… en Un. Je suis, tu es une forteresse. Tu es, je suis une forteresse. À jamais !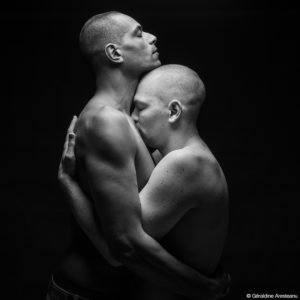 Date de création : 2012 Lieu : Orléans Édition limitée à 10 exemplaires. Tirage numéroté et signé au dos. Format : 70x70cm  Prix : 3 100 €
Secret Garden
Less distance between us. Nothing but your skin and my skin. Less oxygen around us. Nothing but my breath and your breath. Fewer people for us. Nobody but me and you. Body and soul together…as one. I am, you are a fortress. You are, I am a fortress. Forever more!
Date of creation: 2012 Place: Orléans Limited edition, 10 copies. Prints are numbered and signed on the back. Format: 70 x 70cm  Price: €3,100
Секретный сад 
Дистанция между нами – меньше. Только моя кожа – и твоя кожа. Кислорода вокруг нас – меньше. Только мое дыхание и твое дыхание. Людей вокруг нас – меньше.  Только я и ты, слиты воедино Тела и Души… Я и ты – крепость.. Ты и я – крепость. Навсегда!
Дата: 2012 Место: Орлеан. Ограниченный выпуск 10 экземпляров. Фотографии пронумерованы и подписаны на обороте. Формат: 70×70 см Цена: 3 100 €