Je l'ai vu quand il était encore loin. Un zèbre à New York ! Je ne l'ai plus lâché des yeux. Je l'ai vu parce qu'il était devant moi. Le chemin était tout tracé. Je n'ai plus bougé mes yeux. J'ai espéré qu'il prenne le bon chemin. Les Deux étaient faits pour se rencontrer .Et puis… j'ai attendu, un peu et j'ai visé ! Zèbre ou caméléon ? Telle est la question !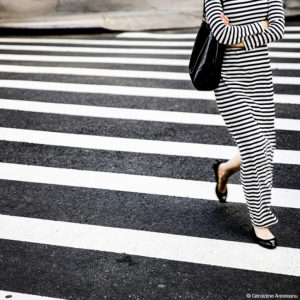 Date de création : 2017 Lieu : New York. Édition limitée à 10 exemplaires. Tirage numéroté et signé au dos. Format : 70×70 cm  Prix : 3 800 €
Zebra
I could see it even when it was far away. A zebra in New York! I couldn't take my eyes off it. I saw it because it was right in front of me. The path was mapped out. I didn't move my eyes. I hoped that it would follow the right path. We were destined to meet. And then…I waited a bit then I took aim! Zebra or chameleon? That is the question!
Date of creation: 2017 Place: New York. Limited edition, 10 copies. Prints are numbered and signed on the back. Format: 70 x 70cm Price: €3,800
Зебра 
Я увидела ее издалека. Зебра – в Нью-Йорке! Я не спускала с нее глаз. И вот – она передо мной. Переход-зебра. Я застыла на месте. Я только надеялась, что она пойдет в нужном направлении. Две Зебры были созданы для того, чтобы встретиться. Я немного подождала – и сделала снимок! Зебра или хамелеон, вот в чем вопрос!
Дата: 2017 Место: Нью-Йорк. Ограниченный выпуск 10 экземпляров. Фотографии пронумерованы и подписаны на обороте. Формат: 70×70 см. Цена: 3 800 €