Elle me regarde, elle m'attire Elle m'a vu ? Elle veut quoi ? Je la regarde, je la vise. Il passe là, il la regarde. Il voit quoi ? Il l'a vue ? Je les ai vu, je les ai eu ! Eux n'ont rien su, ce moment n'existe plus.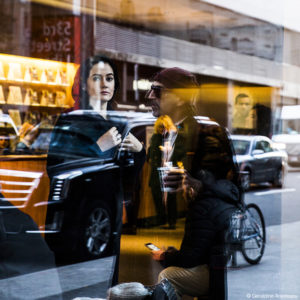 Date de création : 2017 Lieu : New York. Édition limitée à 10 exemplaires. Tirage numéroté et signé au dos. Format : 70×70 cm Prix : 3 500 €
Reflection
She's looking at me, she's enticing me. Has she seen me? What does she want? I look at her, I take aim. He goes past, he looks at her. What does he see? Has he seen her? I've seen them, I've caught them! They didn't notice a thing; the moment no longer exists.
Date of creation: 2017 Place: New York. Limited edition, 10 copies. Prints are numbered and signed on the back. Format: 70 x 70cm Price: €3,500
Отражение 
Она смотрит на меня, привлекает мой взгляд. Она увидела меня? Что она хочет? Я смотрю на нее, навожу объектив… Он проходит мимо, смотрит на нее. Что он видит? Он увидел ее? Я их сняла… Они об этом не узнали, этот момент больше не существует.
Дата: 2017 Место: Нью-Йорк. Ограниченный выпуск 10 экземпляров. Фотографии пронумерованы и подписаны на обороте. Формат: 70×70 см. Цена: 3 500 €