La flotte H2O mélange de gaz qui font de l'eau ! Comment faire des photos dans l'eau ? Garder la tête hors de l'eau, les pamplemousses … Faire Clic avant le plouf … CLIC ! Je coule, elle flotte.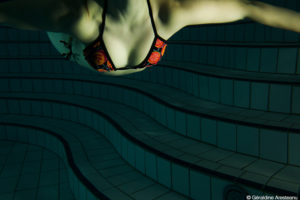 Date de création : 2010 Lieu : Orléans Édition limitée à 10 exemplaires. Tirage numéroté et signé au dos. Format : 70×47 cm Prix : 2 200 €
Swimming Pool
A rain of H2O, a blend of gases that make water! How can you take photos underwater? Keep your head above the surface, that's how… Press the shutter before you dive…CLICK! I sink, it floats.
Limited edition, 10 copies. Prints are numbered and signed on the back. Format: 70 x 47cm Price: €2,200 Date of creation: 2010 Place: Orléans
Бассейн 
Как фотографировать в воде? Держать голову над водой… У нее – купальник с грейпфрутами… Нажать на кнопку, и нырнуть… ЩЕЛК! Я тону, она плывет.
Дата: 2010 Место: Орлеан Ограниченный выпуск 10 экземпляров. Фотографии пронумерованы и подписаны на обороте. Формат: 70×47 см. Цена: 2 200 €