Pareilles les Mireilles ? Presque pareilles, sauf elle et elle, non plus elle … L'uniformité ne gagne pas, les formes unies restent une forme puis une forme une autre encore… L'uniformité n'est pas pareille, comme les Mireilles.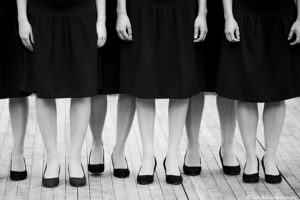 Date de création : 2013 Lieu : la Neuville sur Essone. Édition limitée à 10 exemplaires. Tirage numéroté et signé au dos. Format : 70×47 cm Prix : 2 700 €
Mireilles
Are all Mireilles the same? Almost the same, except her and her, no, her… Uniformity doesn't win, shapes clumped together are just one shape then another shape, then another shape…Uniformity is not the same, just like Mireilles.
Limited edition, 10 copies. Prints are numbered and signed on the back. Format: 70 x 47cm Price: €2,700 Date of creation: 2013 Place: La Neuville sur Essonne
Не одинаковые
Все одинаковые? Почти все, кроме нее, – и ее, и еще вот ее…  Одинаковость не может победить,  – эта однотипность все равно включает одну форму, вторую, третью… Не существует абсолютной однозначности!
Дата: 2013 Место: Невилль-сюр-Эссон Ограниченный выпуск 10 экземпляров. Фотографии пронумерованы и подписаны на обороте. Формат: 70×47 см. Цена: 2 700 €