Souvent j'ai peur. Souvent j'sais pas. Souvent j'ose pas. Pas regarder la vie. Pas regarder devant. Ni regarder derrière. Souvent j'ai pas la force. Mais là Avec ces boules au bout des doigts Avec ces gouttes qui coulent sur moi. Mais là des fois j'y crois. Je crois en ça, je crois en moi. Des fois à c'moment là !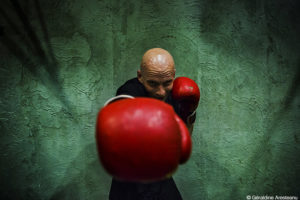 Date de création : 2017 Lieu : Varsovie
Édition limitée à 10 exemplaires. Tirage numéroté et signé au dos.
Format : 150x100cm Prix : 6 700 €
Boxing Glove
I'm often afraid. I often don't know. I often don't dare. Don't look at life. Don't look ahead. Don't look backwards. I'm often not strong enough. But here, with these balls at my fingertips, with these droplets streaming down me. Here, sometimes, I believe. I believe in this, I believe in myself. Sometimes, right now!
Date of creation: 2017 Place: Warsaw  Limited edition, 10 copies. Prints are numbered and signed on the back. Format: 150 x 100cm Price: €6,700
Боксерская перчатка
Часто мне страшно. Часто я не знаю. Часто не смею. Не смею смотреть жизни в глаза. Ни перед собой. Ни назад. Часто у меня нет сил… Но – сейчас – я в перчатках. По лбу стекает пот. И вот – я верю. Верю в себя! Иногда – именно в такие моменты.
Дата: 2017 Место: Варшава Ограниченный выпуск 10 экземпляров. Фотографии пронумерованы и подписаны на обороте. Формат: 150×100 см Цена: 6 700 €